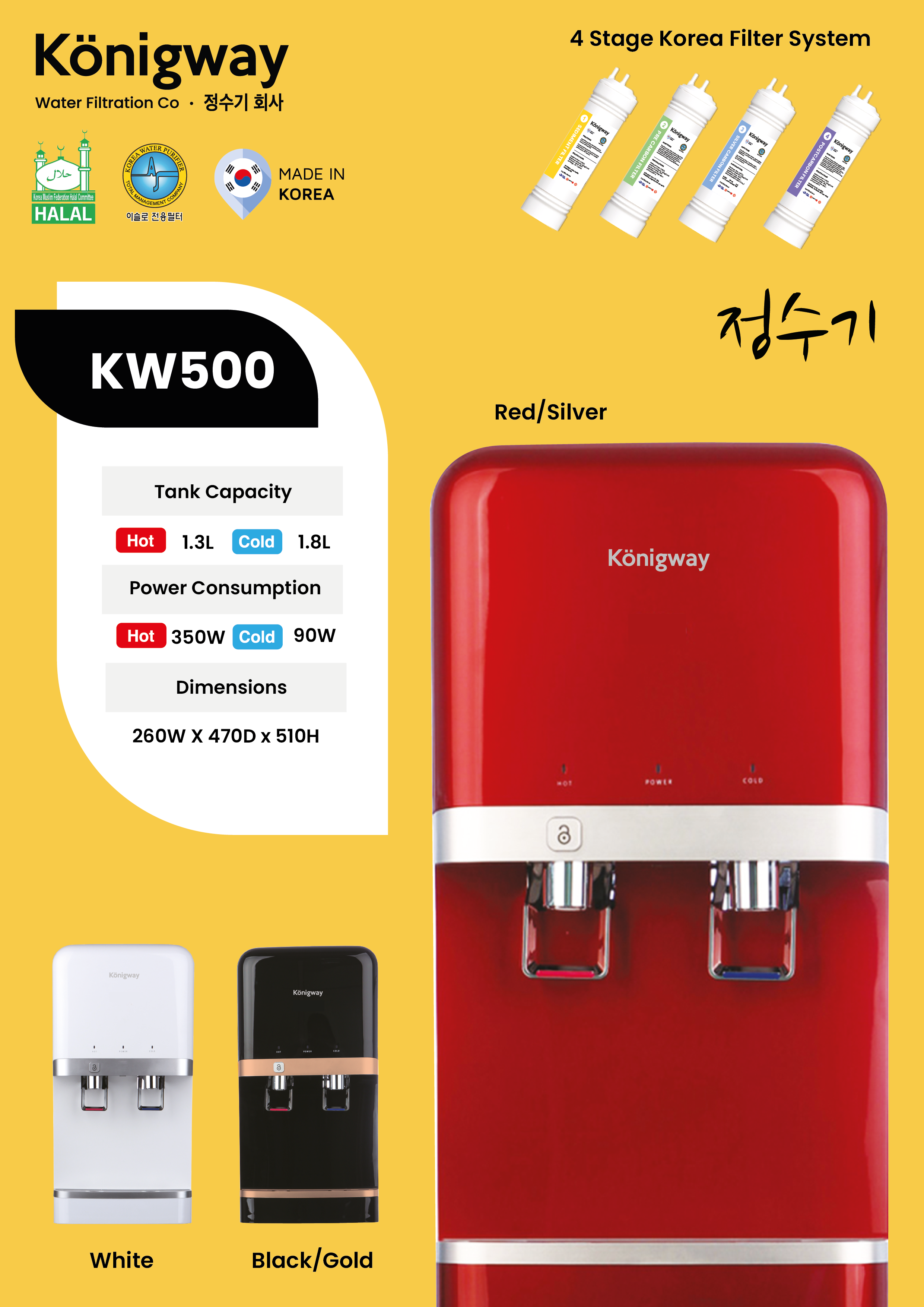 🔥 KONIGWAY PROMOTION 🔥
Top up additional RM200 (RRP: RM400/year),
and you will get ONE (1) YEAR KONIGWAY SERVICE PACKAGE (Worth RM550)

Include:
1) KONIGWAY 4 Stage Korea Filter Cartridge (Worth RM200)
2) Flushing & Filter Replacement Service (Worth RM50)
3) Tank Cleaning & Steam Sterilisation Service (Worth RM50)
4) ONE (1) Year Extended Warranty - For Water Purifier (Worth RM100)
5) ONE (1) Time Relocation/Reinstallation Services - Klang Valley Area only (Worth RM150)
Note: Package only available for Klang Valley.
--
INSTALLATION COVERAGE
We ONLY provide installation for clients/customers around KLANG VALLEY at the moment.

We will strive our best to serve more and have extended installation coverage in the future.
So kindly support and follow us on our social media for the latest news and updates!

KONIGWAY Installation
We will be installing the KONIGWAY KW500 for you within KLANG VALLEY only.

PROCESS TIME
Once order received, your order will take 1-2 working days to process, kindly allow our warehouse to do assembling, sorting and check before despatching to the local courier/transporter.

LEAD TIME
Your orders will be pass to a local courier/transporter and will take about 3 - 5 working days for the item to be delivered to your doorstep.

We will inform you on status of your product, kindly contact us if you need installation / technician to do installation for you.
--
Product Specification
Model : KW500
Manufactured in : Korea
Size : 260W x 462D x 521H (mm)
Water Tank Capacity : (Hot) 1.3L ; (Cold) 1.8L
Power Consumption : (Hot) 350W ; (Cold) 90W
Warranty: 1 Year
Product Highlights:
- Designed for Home / Office
- Child Lock Safety Feature
- Antibacterial Stainless-Steel Water Tank
Filter [ HALAL certified ]
Stage 1: KONIGWAY Sediment Filter
Stage 2: KONIGWAY Pre-Carbon Filter
Stage 3: KONIGWAY Silver Carbon Filter
Stage 4: KONIGWAY Post-Carbon Filter
What's In The Box
1) 1 x KW500
2) 1 x 5 Meter RO Tube Hose
3) 1 x Ball Valve / One (1) Way Diverter (upon request)

--

In partnership with Atome & Split, Konigway is now offering new instalment payment method. Pay in up to 3 monthly instalments for this purchase. 0% interest, DEBIT / CREDIT card both accepted.